Efficient green Solutions
We install, plan & maintain energy Systems
---
Your Freedom, your Security
Island | on-grid | Grid-Parallel / Backup
We have the products and the know-how to provide you with grid independent solutions for energy supply of buildings and industrial plants. If you stay connected to the grid, we have solutions which increase your security and safe energy and costs. Your freedom and independence is worthwhile a thought out of the box.
OUR EFFICIENT SOLUTIONS WORK TOGETHER
Solar Panels, Heat-Pumps, CHP-Systems, Inverters, Batteries, Heat-buffers
Solar & Wind Energy, Hydrogen, Green Gas, LNG, LPG & Wood...
See what we integrate !
"Each time I speak of protecting the environment to heads of state or government officials, they tell me that it is too expensive. This label is a strong message to them: Solutions exist and represent the biggest market opportunity of our century, an opportunity which cannot be missed."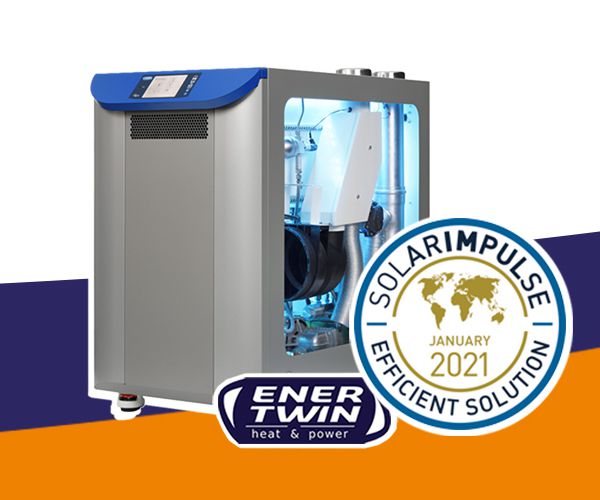 "Efficient Solution"
The Solar Impulse Foundation of Betrand Piccard awarded EnerTwin as "Efficient Solution".
This award has been given to EnerTwin because it is a CHP-System which saves substantial CO2 emissions but at the same time it is economically advantageous.
Plenty of integrated solutions to meet your needs

Solar Systems
The basis and the right step direction green and even independent energy production

Hydrogen production Systems
Safe your excess solar, wind or water energy for the winter months

CHP-Systems
Combined heat and power systems with turbines for 100% independence

Hot Salt Batteries
100% safe and 100% recyclable batteries, 20 years design life

AI Operated Hybrid inverters
Manage your power production and consumption intelligent, flexible and automatic

Latent material Heat Storage Tanks
Store 2x more heat energy from your solar production but with less space usage