Power to Heat System Memory
Save surpluses efficiently in kraftBoxx hybrid memory

Use total PV surplus through stepless power modulation

Use additional latent heat capacity

10 times higher performance compared to conventional latent storage systems

2 - 3 times the storage capacity of a water tank

10 times cheaper than a comparable battery storage unit

Capacity 30 kWh, 50 kWh and 60 kWh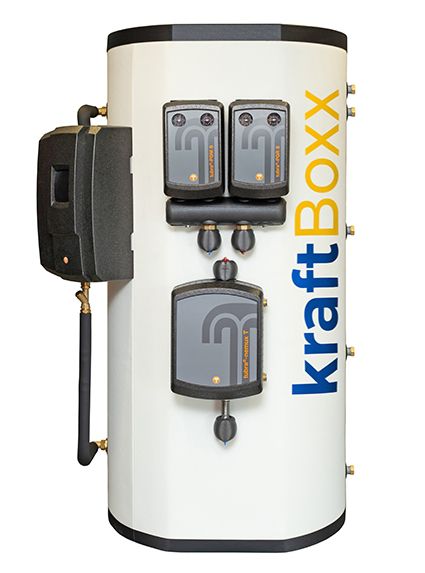 SYSTEM INTEGRATION OF RENEWABLE ENERGIES WITH THE KraftBoxx SYSTEM
AGGIORNARE IL VOSTRO SISTEMA CON LA PIÙ RECENTE TECNOLOGIA ENERGETICA
Increase of the storage capacity by 3-4 times with the same volume, also simple retrofitting possible.


Reduction of the storage volume by 3-4 times with the same capacity, ideal for limited space conditions.


Increase service life - you benefit twice! - Peak shifting and extended runtimes.


Riduzione dei costi operativi - ridurre i picchi di potenza (= carico collegato) (taglio dei picchi / spostamento dei picchi), usare "tariffe elettriche notturne" favorevoli e produzione propria.


Controllo del processo semplificato - trasformando i picchi di temperatura in temperatura di cambiamento di fase e quindi in temperatura costante di iniezione e di ritiro. Un'integrazione come interruttore termico.


Maggiore efficienza - aumento del COP (Coefficiente di prestazione) e riduzione delle perdite di calore per livello di temperatura costante (costi operativi fino a meno 40%!), utilizzo di generatori di freddo/calore più piccoli possibile.

STRUTTURA DEL SISTEMA
---
Heating Circuit - Pump assembly for mixed heating circuits, output range up to 45 kW

Fresh Water Station - Three models to choose from up to 41 l/min

Power To Heat - The electrothermal station up to 9 kW

Hybrid Storage - From 200 - 1000 liters with up to 60 kWh by heatStixx latent material