Hybrid Inverters are the central piece to increase your degree of energy autarky.
We provide you the inverter / charger you favorise.
Typically we install products from next3, Victron-Energy, Deye, Solar Edge, SLA, Fronius, KACO or any other make you prefer.
For island/off-grid or grid parallel solutions we use either of the following products:
Studer-Innotec: Next1 or Next3
---
Studer-Innotec's single or 3-phase hybrid inverter is a high-tech product. The Swiss company produces a very flexibel and freely configurable inverter which is able to optimize the energy flows according to your needs. Next inverters are designed for off-grid systems with 1 or even 2 gensets. This hybrid inverters come already with 2 MPPT trackers preinstalled.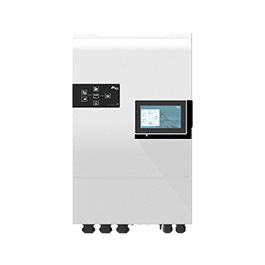 Victron-Energy: Multiplus II or Quattro
---
Victron-Energy products are a safe choice from a well experienced manufacturer which started as a manufacturer for off-shore marine applications. Plenty of configurable options als for high power needs. Single phase and 3-phase installations can be configured in various variants. Works with our hot salt batteries 48TL200. MPPT trackers can be added according to your needs.