Power to Heat System Memory
Save surpluses efficiently in kraftBoxx hybrid memory

Use total PV surplus through stepless power modulation

Use additional latent heat capacity

10 times higher performance compared to conventional latent storage systems

2 - 3 times the storage capacity of a water tank

10 times cheaper than a comparable battery storage unit

Capacity 30 kWh, 50 kWh and 60 kWh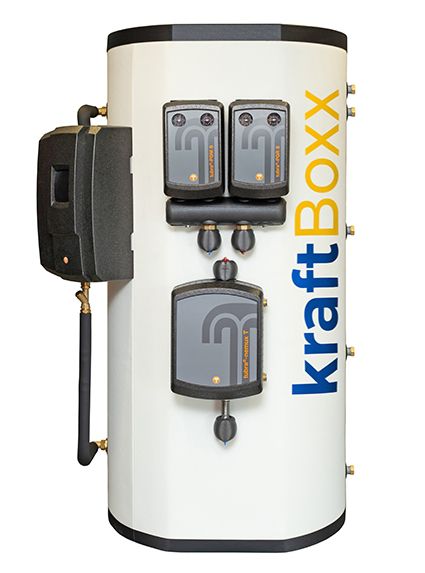 SYSTEM INTEGRATION OF RENEWABLE ENERGIES WITH THE KraftBoxx SYSTEM
METTRE VOTRE SYSTÈME À JOUR AVEC LES DERNIÈRES TECHNOLOGIES ÉNERGÉTIQUES
Increase of the storage capacity by 3-4 times with the same volume, also simple retrofitting possible.


Reduction of the storage volume by 3-4 times with the same capacity, ideal for limited space conditions.


Increase service life - you benefit twice! - Peak shifting and extended runtimes.


Réduction des coûts d'exploitation - réduction des pics de puissance (= charge connectée) (écrêtage / décalage des pics), utilisation de "tarifs d'électricité de nuit" avantageux et production propre.


Un contrôle simplifié du processus - en transformant les pics de température en température de changement de phase et donc une température d'injection et de retrait constante. Une intégration comme interrupteur thermique.


Rendement supérieur - augmentation du COP (Coefficient de performance) et réduction des pertes de chaleur par un niveau de température constant (coûts d'exploitation jusqu'à moins 40% !), utilisation de générateurs de froid/chaleur plus petits possible.

STRUCTURE DU SYSTÈME
---
Heating Circuit - Pump assembly for mixed heating circuits, output range up to 45 kW

Fresh Water Station - Three models to choose from up to 41 l/min

Power To Heat - The electrothermal station up to 9 kW

Hybrid Storage - From 200 - 1000 liters with up to 60 kWh by heatStixx latent material