APPLICATION
HEAT AND POWER FOR PRIVATE & BUSINESS BUILDINGS
---
OFF-GRID, ON-GRID, PARALLEL/BACKUP
There are additional options to consider when applying up to date energy systems. Could you also go off-grid?
The technology is there to make your house, building or company independent from public grid and nowadays political constraints and costs.
You could gain freedom, flexibility and security back.
Just think about it, we support you in your planing, whatever your requirements might be.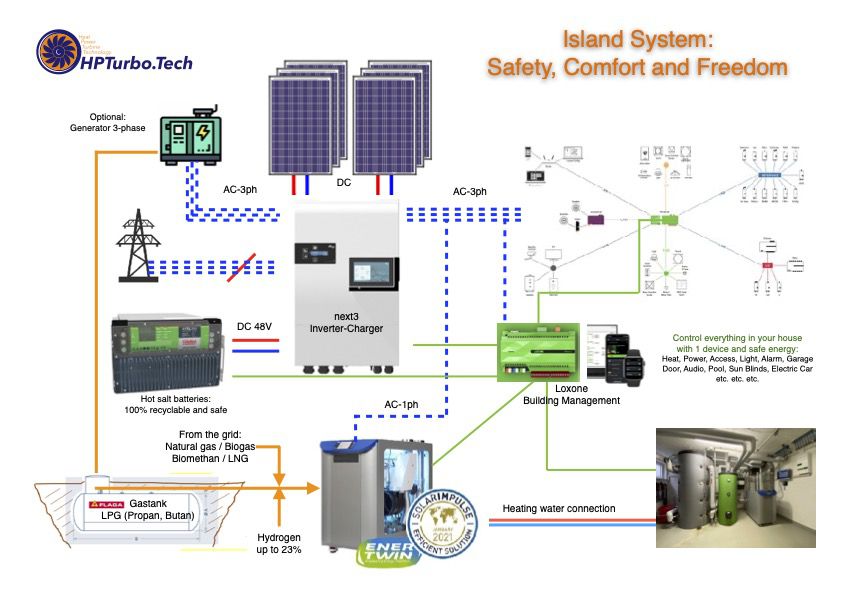 Grid independent Solutions
---
Example: Single Family House
This single family house runs primarily on solar energy. To support the production of electricity and heat in the dark month of the year it has installed an EnerTwin CHP-System. The power control of the house is managed by a Studer 3-phase next3 inverter charger. The power storage consists of a FzSoNick (49TL200) hot salt batterie. Heat is stored in a conventional 1'000 Liter heat buffer and a 320 liter sanitary hot water tank.
Building UpGrades & Renovations
Upgrade your existing building and meet the current regulations, reduce your footprint without a complete renovation of the isolation. You do not have to exchange your current high temperature radiators, EnerTwin produces hot water up to 80 degrees Celsius.
Single Family homes (with Pool)
Single family homes with electric cars, pools and saunas profit from the power of the EnerTwin through lower energy costs, higher independence from the grid and a smart home control which can cover all the aspects of energy production and usage. Control you home from everywhere.
Apartment Houses
The EnerTwin runs all year round to produce hot water for all the apartments in a multi apartment building. At the same time you produce power for the common infrastructure or you are selling the electricity to the persons which rented the apartments. Everybody could profit from lower energy costs.
Office Buildings
You can not only provide heat to your building with the EnerTwin you have also an emergency power generator running in your premises which charges your batteries of the uninterrupted power supply.
Schools and Gyms
Go ahead with a good example and teach others to reduce the ecological footprint with the installation of an EnerTwin. Providing heat, hot water and electricity for your school or gym reduces by the way also the costs.
Governement Buildings
With the usage of renewal energies grid stability is a growing concern for cities and countries. Enhance grid stability by using EnerTwin in your government buildings, hospitals and retirement homes.
Restaurants and Hotels
High electricity and heat demand is a relevant cost driver in your business, even more if you operate even a SPA. The EnerTwin provides you with 24h year round operation and reduces your energy costs substantially.
Production buildings
You operate a heat demanding production processes the EnerTwin provides you with electrical power at the same time. Do the calculation how you profit if maintenance costs are 4 to 5 times lower than any other CHP-System.
Universities, Labs, Research Centers
The manufacturer MTT offers a special research version of its EnerTwin with an enhanced software module and an engineering support package. They debug you if your changes don't quit yield the expected results.